Digital Signage Creates Life for the Brand
An improved instore ambience provides a better customer experience
Ensures return business

Increases brand loyalty, customers know the team is playing songs for them, they make a deal of doing it in front of them!

Enables a personalised experience!

Breakdowns the corporate faceless brand and makes it local part of the community.
Enhance Your Brand with Digital Signage: Elevating In-Store Atmosphere for Exceptional Experiences
Unlock the potential of digital signage to breathe life into your brand, creating a dynamic ambiance that resonates with customers.
Key Benefits:
Improved Ambience: Elevate the in-store experience with dynamic visuals that go beyond aesthetics, fostering a seamless and immersive atmosphere.

Ensured Return Business: Captivate customers with a positive and energetic ambiance, ensuring not only their initial visit but also fostering a lasting impression that encourages return business.

Increased Brand Loyalty: Personalized content, such as curated playlists and dynamic displays, demonstrates a commitment to engaging with customers, building brand loyalty.

Personalized Experience: Tailor content and messaging to create a personalized and targeted approach, forging a connection between your brand and individual customers.

Breaking Corporate Stereotypes: Transform the faceless corporate image into a local, community-centric brand, breaking down barriers and integrating your brand into the local community.
Invest in the future of retail with our digital signage solutions. Elevate your brand, captivate your audience, and cultivate lasting connections with customers.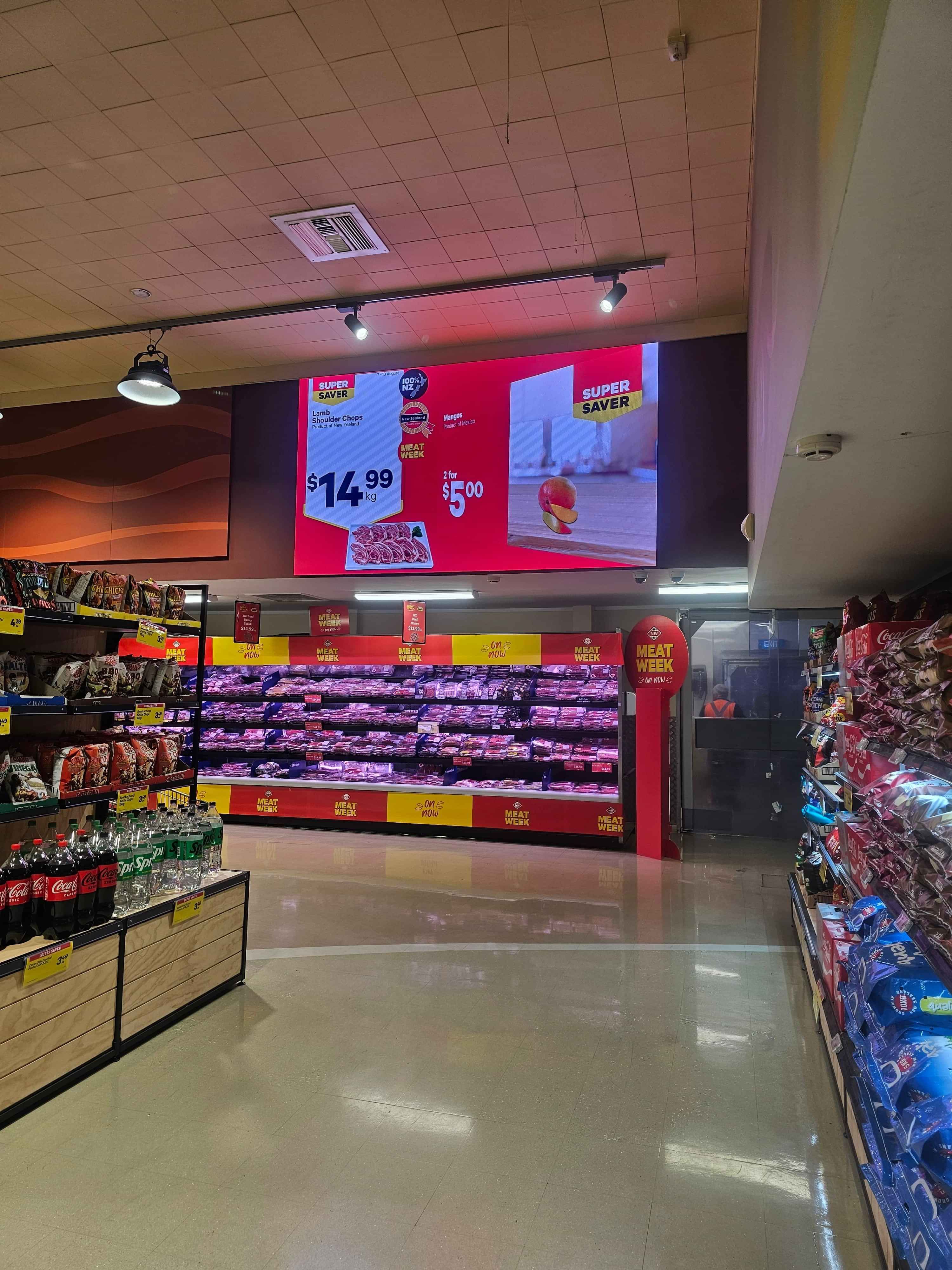 Effortlessly Generate Brand-Compliant In-Store Ads with AOD (Advert On Demand)
Explore the simplicity of creating on-brand advertisements on the fly with our Advert On Demand (AOD) platform. View our Demonstration Video to witness how seamlessly you can achieve this without the need for a design company or professional designer—our platform empowers you with a user-friendly drag-and-drop interface.
Key Features:
User-Friendly Design: No design expertise required; our platform simplifies the ad creation process with an intuitive drag-and-drop interface.

Custom "On Brand" Designer Templates: Choose from our curated selection of on-brand designer templates or effortlessly create your own, ensuring brand compliance with every advertisement.

Versatile Content Integration: Incorporate video, images, ads, music, music videos, and third-party apps effortlessly. Modify content in real-time and push it live in-store with unparalleled ease.

Dynamic Content Management: Bid farewell to paper and posters. Adjust your content as frequently as needed to align with the evolving mood in-store.
Transform your in-store advertising experience with AOD—empowering you to produce professional, brand-compliant ads swiftly and efficiently. Explore the future of dynamic in-store marketing without the constraints of traditional mediums.
Streamline Messaging with Digital Displays
Unlock the power of digital screens to declutter your space and amplify your message.
Benefits:
Efficient Display: A digital screen can showcase 10 products per minute, surpassing paper posters' limitations and delivering a more impactful presentation.

Increased Exposure: Elevate shopper exposure to dynamic messaging, reducing the need for frequent print replacements and enhancing operational efficiency.

Enhanced Safety: Improve health and safety standards by eliminating the need for staff to climb ladders for poster changes.

Supplier Engagement: Empower suppliers to share compelling product stories, boosting sales and potentially creating a store revenue stream.

Dynamic Campaigns: Execute short, one-hour campaigns for highly relevant promotions, adapting to specific situations like lunchtime specials or cold-weather offerings.
Embrace the efficiency of digital displays for a clutter-free, engaging, and revenue-driven in-store experience.
Empower Your Stores with Advertising Freedom and Head Office Assurance of Brand Consistency
Instantly create studio-quality advertisements with ease, ensuring a seamless alignment with your brand at all times.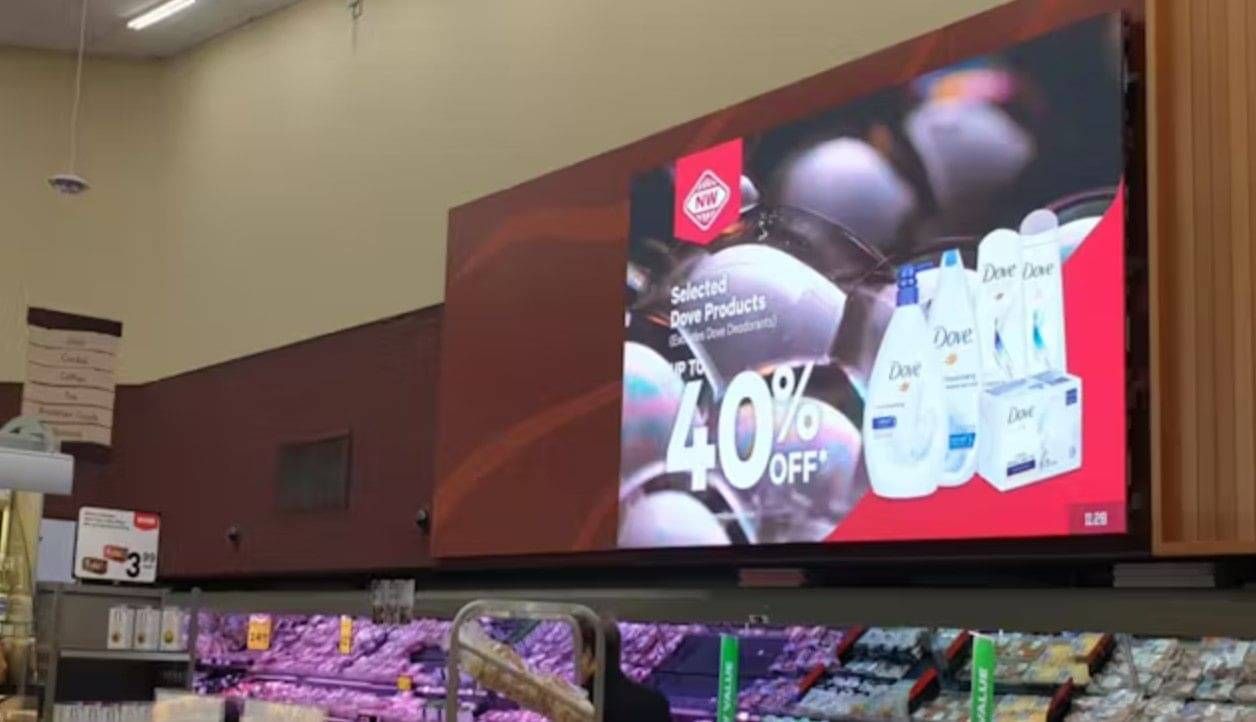 Key Features:
Effortless Ad Creation: Crafting high-quality adverts is instantaneous and user-friendly, providing your stores with the tools to maintain a consistent and professional image.

Flexible Display Management: Easily send adverts to any display for any duration, eliminating concerns about the size or shape of screens. This versatility ensures optimal visibility and impact across various settings.

Community Strengthening: Elevate your store's position in the community by fostering increased awareness of sponsorships, supporting local funding initiatives, and actively participating in community events. This not only enhances your brand's local standing but also contributes to a positive community impact.
Experience the freedom to advertise with confidence, knowing that your stores are consistently projecting a professional and brand-aligned image. Elevate community engagement and brand presence effortlessly.
Introducing EMBR: Your Versatile Digital Signage and Media Solution.
Unlock the power of EMBR, our comprehensive digital signage and media system designed to seamlessly integrate with your brand.
Key Features:
On-Brand Customization: Effortlessly customize 'on brand' local content within your store, fostering regional loyalties and facilitating genuine engagement with local customers. EMBR allows for dynamic content adjustments to maximize relevance and resonance.

Flexible Advertisement Creation: Choose between creating multiple or single advertisements displayed on prominent screens within your establishment. EMBR provides you with the freedom to tailor your advertising strategy to best suit your objectives.

Cost-Free Updates: Enjoy the flexibility to update and change content at your discretion, without the need for designers or incurring additional costs. EMBR empowers you to maintain a dynamic and engaging presence without compromising on financial considerations.
Experience the versatility of EMBR and elevate your digital signage and media capabilities to a new standard of excellence.
Our story
Cloud Digital Media, a Wellington-based leader in digital signage, was established over 20 years ago by Andrew and Ingrid McCracken. Specializing in digital music and video media management, the company has become a pivotal player in the sector.
Expertise in media product development, particularly for retail digital signage and commercial ambient control, has positioned Cloud Digital Media as the preferred partner for audio-visual integrators seeking advanced media management solutions. The company excels in configuration, client training, and media creation.
In recent years, Cloud Digital Media has focused on the EMBR platform, a multimedia management product now gaining traction across New Zealand. Key clients include Avis/Budget Australasia, Bigsave Furniture, Smith City Retail, various local government entities, and Foodstuffs NI. EMBR is renowned for its effectiveness in signage and ambient control, and the platform is increasingly popular in the hospitality and fitness sectors, bolstered by Cloud's licensed music library. This expansion signifies a new era of growth and innovation for the company.